While earning her Bachelor of Arts degree at Stony Brook University, Pamela  completed a minor in Japanese Studies. In 2012, Pamela traveled abroad to study at Keio University in Tokyo, Japan.
Japan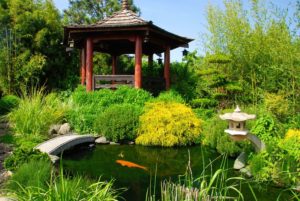 While in Japan, Pamela Usukumah had the opportunity to experience its rich art, history, cuisine, and culture. Japan offers a unique experience mixed with traditional and modern concepts and ideals. While holding on to many ancient traditions such as Japanese Gardens, traditional Japanese architecture, cherry blossom festivals, kimonos, calligraphy, and more, Japan is also well known for its evolving contemporary art and pop-culture scene.
Along with enjoying the incredible taste, eating traditional Japanese food becomes an even greater experience with the Japanese attention to detail, creative presentation, and usage of the finest and highest quality ingredients.
Some of the most well known traditional dishes of Japan include:
Sushi: Sushi is probably the most well known dish from Japan and has grown to be increasingly popular all around the world. Put simply, sushi consists of a small piece of raw seafood inside of a ball of vinegared rice.
Sukiyaki: Often prepared right at the table, Sukiyaki involves cooking thin slices of beef along with vegetables, vermicelli, and tofu.
Tempura: Tempura is a dish consisting of seafood or vegetables that have been coated with a batter of egg, water, and wheat flour and deep fried. Common ingredients include shrimp, squid, and in-season vegetables.
Pamela Usukumah would love to return to Japan as well as travel to a number of other Asian countries including:
China

Thailand

Malaysia

India

The Philippines
To learn more about Pamela Usukumah's travel experiences, check out her profile on Quora: https://www.quora.com/profile/Pamela-Usukumah.