Along with gymnastics, Pamela Usukumah is also passionate about the sport of cheerleading.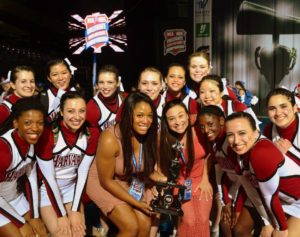 During her time at Harvard, Pamela Usukumah worked as a cheerleading coach, helping her girls earn recognition and achieve their personal best at the 2014 NCA College Nationals.
Cheerleading requires many of the same skills as gymnastics including:
Strength

Flexibility

Balance

Control & Coordination
While some individuals are misinformed about the sport of cheerleading, believing it to only require a loud voice and peppy spirit, Pamela Usukumah knows cheerleading is built of so many more interesting, entertaining and complex components. These components include tumbling, stunting, and basic motions.
Learn more about Pamela Usukumah and her passion for cheerleading on her Google Site: https://sites.google.com/view/pamelausukumah.
Basic Motions
There are eight basic motions that every cheerleader learns as a beginner that they will use to incorporate in their routines and cheers. These motions are:
High "V"

Low "V"

Bow and Arrow

"L" Motions

Daggers

Touchdown

Low Touchdown

Punch
Stunting
Stunting is one of the most entertaining and exciting parts of a cheerleading routine that can involve lifting a teammate into the air or throwing them even higher. A basic stunt involves a flyer, two bases, a back spot, and a front spot. The two bases will lift the flyer into the air while the spots offer stabilizing and support. While in the air, the flyer will perform a movement or series of movements often involving one the above mentioned basic motions or another body position such as:
Scorpion

Scale

Heel Stretch

Bow and Arrow

Arabesque

Basket Toss

And Many More
Tumbling
Another exciting aspect of cheerleading is tumbling. Tumbling, also a major form of gymnastics, involves a series of coordinated movements often resulting in a flip or upside movement. Tumbling ranges from many basic moves such as a somersault, handstand, or cartwheel and expands to more challenging movements such as back handsprings, back tucks, and full-twisting layouts.
Pamela Usukumah is passionate about the sport of gymnastics. She loves the challenges it provides and the required skills of ample strength, balance, flexibility, and control.
While growing up, Pamela Usukumah was fascinated by the wide variety of gymnastic events recognized all around the world. Some of her favorite gymnastic events include:
Rings
Often referred to as Still Rings, the rings are a well known and challenging gymnastic event requiring a great deal of upper-body strength. During this event, a gymnast grabs onto two rings, about shoulder width apart and 5.75 meters from the floor. Some of the common routines completed on the rings include:
Swing Elements

Swing to a Handstand

Swing to a Static Strength Hold

Aerial Dismounts
Vault
Vault is one of the most exciting gymnastic events to watch. For the event, a gymnast sprints down a short runway and hurdles onto a springboard that launches them hands first onto the vault. From there the gymnast will flip over and often perform a series of twists and turns in the air before landing on the other side of the mat.
To earn a high score in this event, the gymnast is expected to complete a clean landing with no extra hops or steps. The gymnast must also demonstrate a high level of execution and technique throughout their movements on the vault.
Balance Beam
The balance beam is another awesome event in artistic gymnastics. In this event, gymnasts complete a series of moves and strength exercises on a long, thin beam measuring about 16 feet long, 4 inches wide, and standing just over four feet from the ground. Moves on the balance beam consist of:
Leaps

Somersaults

Acrobatic Skills

Turns and Poses

Dance Elements
Each balance beam routine lasts up to about 90 seconds and ends with a clean dismount onto the mat.